Important note:
The model data from the T6K-V3S can NOT be transferred to older T6K transmitters with older software.
However, model data from older T6K transmitters CAN be copied to the T6K-V3S.
T6K 
Two additional channels
Channels 7/8 are used through the R3006SB receiver's S.BUS/S.BUS2 ports
Allow for expansions or adding accessories
Can be assigned to any of the four switches or VR dial
Are included in Sub Trims, End Points, Reverse, Failsafe, Servo Monitor and Trainer
Expanded Flight Modes (Fly Mod) in multicopter programming
Priority — toggle through five different values assigned to flight modes on an assigned channel
Matrix — up to nine combinations using two, 3-position switches for controlling gimbals
Vibration alerts with timer functions and Throttle Integrate
SBS-01C current sensor and SBS-01V voltage sensor compatible

The included R3008SB receiver has eight standard PWM ports plus S.Bus and S.Bus2 ports. You can use S.Bus as the main link to your servos or a combination of the ports. The S.Bus2 port allows bi-directional communication with T-FHSS Futaba air transmitters and the use of a wide array of telemetry sensors.


The versatile 6K meets the control needs of a wide range of R/C pilots!


The 6K is a full-range system. Its antenna is inside the transmitter case for safety and convenient handling.


This variable rate dial can be programmed for a variety of functions. A speaker provides audible alerts and cues for navigating the programming menus.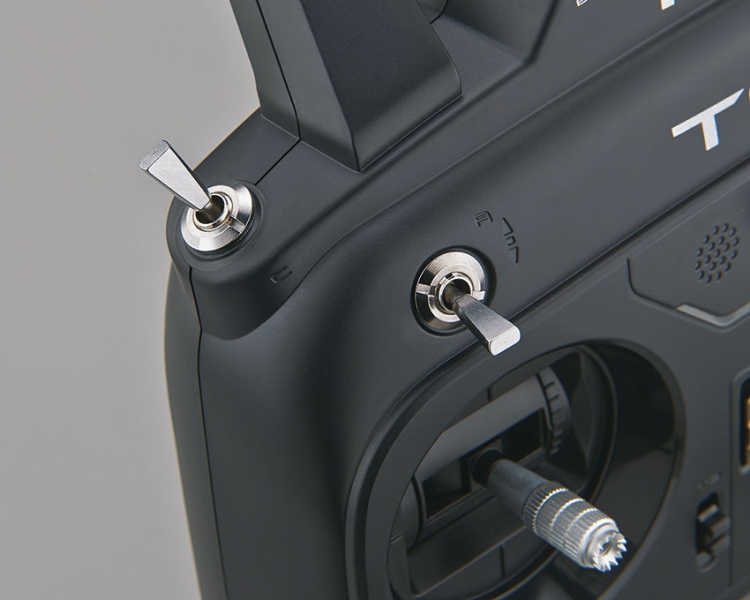 Four assignable 3-position switches offer maximum flexibility.


T6K Version 2 multicopter programming has been expanded with five Priority and nine Matrix flight conditions.


The nine Matrix flight conditions can be used to set up a tilt camera by assigning nine settings to two 3-position switches.

Using an SBS-01V External Voltage Telemetry Sensor and SBS-01C Current Telemetry Sensor, the 6K collects real time telemetry data for motor current, battery voltage and capacity. (not included)
System Features:
Airplane, Helicopter, Glider and Multicopter programming
S-FHSS/T-FHSS selectable
Telemetry system (T-FHSS) with data speech (via earphones) function for monitoring receiver battery voltage, external voltage, temperature, RPM, altitude and variometer, current, capacity and voltage
Built-in antenna (Full Range)
S.Bus/S.Bus2 servo setting functions programmable through the transmitter
Preset vibration alarms
30 model memory
8-character model/user naming
Programmable mixes (3-normal, 1-curve) for airplanes, helicopters, gliders and multi-rotors
Digital trims with variable step settings
Adjustable stick length and tension
Changeable switch/VR position and AUX channel function
Throttle position warning
Backlit 128×64 DOT LCD screen with adjustable display contrast
Software updateable through the CIU-2 or CIU-3 interface units
Screen Lock
Earphone/S.Bus/Trainer jacks
Assignable switches (three 3-position, one 2-position)
Range Check
Program navigation bay with jog dial, +/- pads and end pad
Data reset
Model copy
Selectable model type
Fail Safe
End Points
Trim/Trim Resets/Trim Steps
Sub Trim
Servo Reversing
Parameter functions
Servo monitor/Test
Wireless model data transfer (to other T6K transmitters)
Timer-System and Model (Up/Down/Down-Stop/THR Integrate) w/Vibration Alert
Trainer system
Power Saver
Airplane Functions:
Wing Type (5-wing, 2-tail)
Throttle Cut
Dual Rate/Expo
Throttle Curve
Idle down
Gyro
Aileron differential
V-Tail
Camber
Air Brake
Elevator-to-Flap mixing
Flap-to-Elevator mixing
Elevon mixing
Glider Functions:
Wing Type (5-Wing, 2-Tail)
Condition select
Dual Rate/Expo
Motor switch
Gyro
Aileron Differential
V-tail
Butterfly mixing
Trim mixing
Elevator-to-Camber mixing
Camber mixing
Aileron-to-Camber mixing
Helicopter Functions:
Swash type (6)
Condition Select
Throttle Cut
Dual Rate/Expo
Trim Offset
Delay
Gyro mixing
Swash AFR
Swash mixing
Throttle Curve (5-point)
Pitch Curve (5-point)
Pitch-to-Rudder mixing
Throttle Hold
Hovering throttle
Hovering pitch
Multicopter Functions:
Flight Mode
Center alarm
Dual Rate/Expo
Throttle Curve
Throttle Delay
Gyro
Six Languages:
English
German
French
Spanish
Italian
Dutch

Optional Telemetry Sensors when using R3006SB receiver:
Temperature sensor (loop): SBS-01T
Temperature sensor (EP models): SBS-01TE
Altitude sensor: SBS-01A
RPM sensor magnet type: SBS-01RM
RPM sensor optical type: SBS-01RO
RPM sensor brushless motor type: SBS-01RB
(Additionally the SBS-01V telemetry sensor for external voltage can be used together with the optional R3008SB receiver)
Transmitter Specifications:
Type: 2-stick, T-FHSS/S-FHSS selectable
Channels: 8 (channels 7/8 are used through the receiver S.BUS/S.BUS2 port)
Power Supply: 4 "AA" cells; optional 6V NiMH or 6.6V LiFe batteries
Receivers that can be used:
T-FHSS Air: R3006SB & R3008SB (Note, the R304SB, R304SB-E T-FHSS surface system receivers does not work with the T6K or T6K-V2)
S-FHSS: R2008SB, R2006GS & R2106GF (No telemetry functions)
R3008SB 2.4GHz T-FHSS S.Bus Receiver for T6K
The included R3008SB T-FHSS Air Receiver is S.BUS compatible and features Dual-Antenna Diversity – it also comes equipped to handle high voltage applications.
R3006SB Receiver Specifications:
T-FHSS Air 2.4G system
Dual antenna diversity
S.BUS, S.BUS2 system
Power Requirement: 4.8 – 7.4V Batteries
Battery F/S Voltage: It's set-up with the transmitter
Size: 43.1 x 25 x 8.8 mm
Weight: 8.5 g
UPDATE YOUR T6K TO 8-CHANNELS!
For T6K owners (with a 6-channel radio) – go to the downloads tab and download the latest 2.02 software upgrade to get two extra channels and a couple of more functions (like being able to use the telemetry current and voltage sensors)! Note you will need an PC and the CIU-3 USB interface to ugrade.
Downloads: